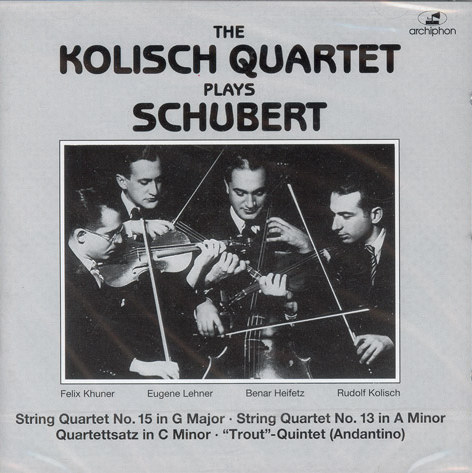 BERKELEY e-PLAQUE
Felix Khuner, Violinist
(1906–1991)
Felix Khuner Residence:
1324 Bay View Place
In the mid-1930s, while touring with the world-renowned Austrian Kolisch Quartet, Vienna-born Felix Khuner came to Berkeley and thought it would be a very good place to live. He had joined this prominent ensemble at the age of 19. Ultimately, it became his family's lifeline to survival: during the quartet's first U.S. tour in 1935, he applied for permanent residence status, an act of foresight which laid the groundwork for avoiding family destruction by the Nazis.
As territories were increasingly subsumed by Germany, the group's European tours diminished, in part because three of the quartet members were legally defined as Jewish, but also because of their advocacy of contemporary music, which the Nazis deemed degenerate. In 1938, the Kolisch relocated to New York. While on tour in Paris, Khuner received a letter from his mother warning him not to return to Vienna. On a trip from New York to Berkeley to visit his sister and brother-in-law who had fled Vienna and were living in an apartment on Dwight Way, Khuner bought a house for them on 62nd Street in North Oakland for $2,800. A second home nearby was purchased when their parents arrived. After Felix married and started a family, they too lived in the same neighborhood before moving to Bay View Place in 1952. Felix's mother, Elfriede, taught piano and his wife, Gertrude Khuner, a former pupil of Martha Graham, taught movement and dance.
Affected by the difficulties of continuing to perform and practice in a world at war, the Kolisch Quartet disbanded in the early 1940s and Khuner joined the first violin sections of the San Francisco Symphony and Opera orchestras. His tenure was briefly interrupted by service in the U.S. Army, after which he remained with the Symphony until 1973 and with the Opera until his retirement in 1983.
Felix Khuner founded and led the California String Quartet in the same uncompromising and adventurous repertoire the Kolisch quartet had featured. He also taught chamber music at UC Berkeley and saw private students in his Berkeley home. In retirement he was highly sought after as a violinist and continued to accept occasional jobs. He volunteered with the Prometheus Orchestra, which, in 1989, established the Khuner Young Artist Concerto Competition in his honor.
Felix and Gertrude's son Jonathan Khuner is music director of Berkeley's West Edge Opera and serves as assistant conductor and prompter with major opera companies, including San Francisco Opera, Lyric Opera of Chicago, and the Metropolitan Opera.
Feliz Kuhner died in 2016.
Contributed by Diana Kehlmann, 2014
With thanks to Jonathan Khuner