Helen Wills Moody, Tennis Star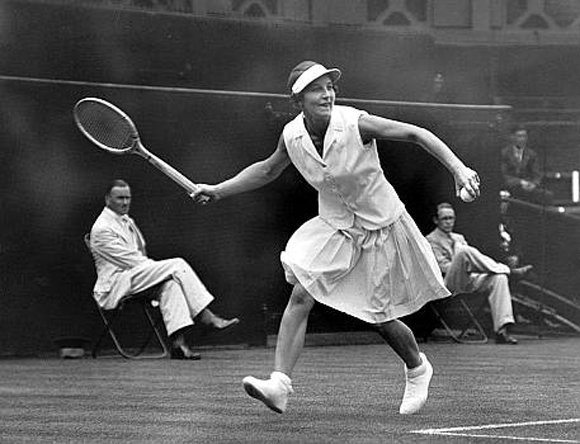 BERKELEY e-PLAQUE
Helen Wills Moody, Tennis Star
(1905–1998)
Wills Moody Residence:
1200 Shattuck Avenue
Helen Wills Moody, the first American-born female athlete to achieve international fame, won gold medals in both singles and doubles in the 1924 Paris Olympics and 31 Grand Slam titles. She held the No. 1 world tennis ranking for eight years. Wills Moody won 398 matches in 15 years without losing a set during a 180-match winning streak. Many consider her the 20th century's finest tennis player.
Wills Moody grew up in Berkeley, graduating from the Anna Head School and UC Berkeley. The family lived at 1200 Shattuck Ave. in the Bernard Maybeck-designed Prof. Isaac Flagg House (1901). Her father, a physician with an office in downtown Berkeley, taught her tennis at nearby Live Oak Park where she practiced until her parents gave her a membership in the Berkeley Tennis Club for her fourteenth birthday. Fellow tennis star Don Budge would ride his bicycle from east Oakland to the Club on Tunnel Road to watch her practice. She won her first singles Grand Slam title at the national championships in Forest Hills, NY at age 17 while still a teenager with pigtails.
Affectionately known as "Little Miss Poker Face," she rarely showed emotion on the court. She was the first woman to abandon the traditional long skirt in favor of a knee-length pleated one. Wills Moody had many close admirers, including Charlie Chaplin, King Gustav of Sweden, poet Louis Untermeyer, and painter Diego Rivera. In 1931 Rivera included her portrait as a symbol of California's promise and beauty in his mural for San Francisco's Pacific Stock Exchange tower. Reclusive by nature, Moody relied on tennis and painting to calm what she called "a restless heart." She married financier Frederick Moody in 1929, divorced him in 1937, and married screenwriter Aidan Roark in 1939. In retirement she continued playing tennis into her 80s, drew magazine illustrations, and sold paintings from her studio in San Francisco, and later in Carmel.
Contributed by Bob Johnson, 2013