Josephine Miles, Poet, Literary Critic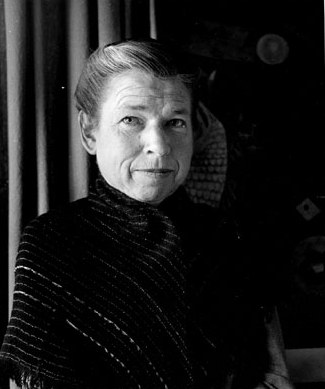 BERKELEY e-PLAQUE
Josephine Miles, Poet, Literary Critic
(1911–1985)
Miles Residence:
2275 Virginia Street
Poet Josephine Miles suffered lifelong disability from juvenile rheumatoid arthritis. Between multiple operations she spent her childhood in casts and traction. Privately tutored until high school, Miles graduated from UCLA and moved north to Berkeley. She was unable to use a wheelchair or typewriter or even hold a cup, and she required lifelong round-the-clock assistance. Creatively focused on teaching, analyzing language, and writing poetry, she faced life with equanimity and discipline.
Miles received her doctorate from UC Berkeley in 1940 and joined the English Department faculty, seven years later, after publishing three books of poetry and another three of literary criticism. She subsequently became the department's first tenured woman. During an illustrious four-decades career as a teacher and a writer of more than a dozen books of poetry, eight books of literary criticism, and countless articles, Miles was nominated for the Pulitzer Prize in Poetry. Among her outstanding students in the late '40s were Robin Blaser, Robert Duncan, and Jack Spicer.
Professor Miles was one of the few Bay Area women publishing poetry during the '50s, when local poets like Duncan, Gary Snyder, Philip Whalen, Lawrence Ferlinghetti, Kenneth Rexroth, Allen Ginsberg, and Michael McClure captured media attention. Carried to and from classes by an assistant, she became a mentor to young poets, many of whom were women. In 1972 she became the first woman awarded the prestigious title of University Professor. In 1974 she founded the Berkeley Poetry Review.
Miles often held seminars at her Virginia Street house. From her 1978 retirement until several weeks before her death, the house remained a meeting place for poets, students, and academics. She bequeathed the residence to UC Berkeley for use as a home for visiting poets.
Contributed by Robert Kehlmann, 2013