Mobilized Women of Berkeley Building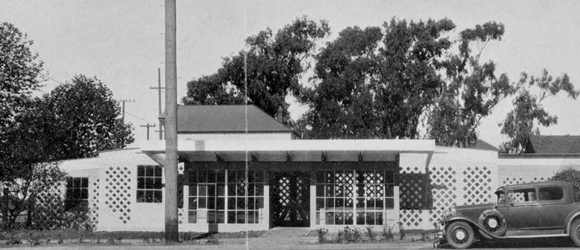 BERKELEY e-PLAQUE
CITY OF BERKELEY LANDMARK
designated in 2010
Mobilized Women of Berkeley Building
Philip L. Coates, Architect,
1007 University Avenue
The Mobilized Women of Berkeley building features a unique design and construction that was developed in Berkeley. Cast-in-place 4'x8′ concrete wall panels are embedded with translucent 4″x4″ glass blocks which are set in a lattice-work pattern. The building was designed to be a companion to Bernard Maybeck's 1938 building next door (demolished in 1980) that used similar wall panels. Ensor Buell, who worked with Maybeck on several buildings, was the contractor.
The building is a reminder of the role women played in providing services to needy citizens before such services were provided by public agencies. Mobilized Women's Organizations of Berkeley was organized in May of 1917 by representatives from 151 women's organizations (both public and private) to help the First World War effort.  As their Guide indicates, they promoted food conservation by publishing Conservation Recipes, collected books for the troops, began a profitable recycling business, provided scholarships to students, worked with the Red Cross, collected shoes for the Rotary Club, sponsored fund raising teas and luncheons, and coordinated the activities of all the women's organizations in Berkeley. The women were successful—by October of 1919 they had leased a store at 1002 University Avenue and purchased a truck for collecting newspapers and junk clothing for recycling. During 1920 they expanded into 1023 University and purchased the vacant lots at 1001 and 1007 University Avenue. The group was incorporated in 1924 as the Mobilized Women of Berkeley.  During World War II they again helped with the war effort.
In 1969, to commemorate their 50th anniversary, the Mobilized Women of Berkeley announced their retirement as an organization and handed over the deed to their buildings to the East Bay Association for Retarded Children (EBARC).
Contributed by Susan Cerny, 2012