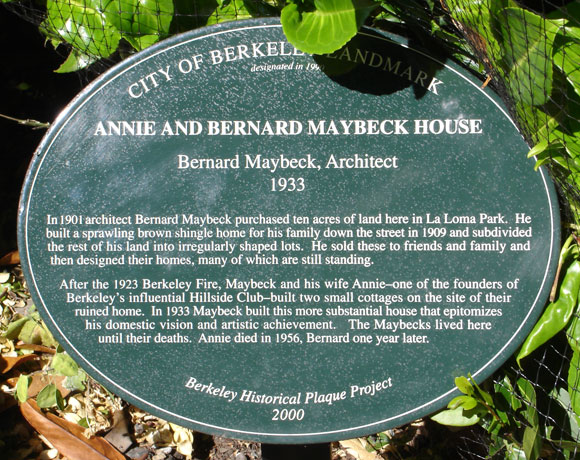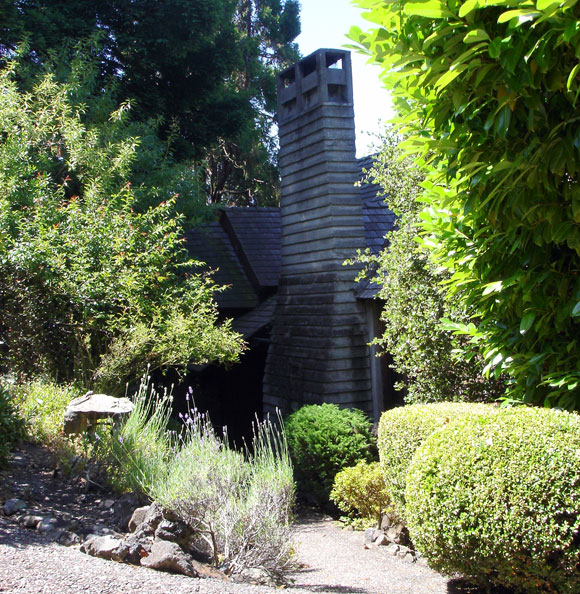 CITY OF BERKELEY LANDMARK
designated in 1990

MAYBECK HOUSE
Bernard Maybeck, Architect, 1933
Bernard Maybeck (1862–1957) purchased land in La Loma Park and subdivided it into irregularly shaped lots he sold to friends and family, many of whom had him design their homes. In 1907, he built a sprawling brown shingle house for his family at 2711 Buena Vista Way. After the house was destroyed in the 1923 Berkeley fire, they lived in several small structures built on the site.
Bernard and Annie Maybeck resided in this house with their daughter Kerna. When she married in 1936 it became hers and remained in the Maybeck/Gannon family until 1969.
The house is ingeniously site specific, designed to fit the contours of a very steep lot. Its massive poured-concrete chimney, which imitates the alternating pattern of the house's redwood and Douglas fir siding, is unusual and immediately obvious to public view.
TEXT REVISED 2013
(The plaque that is installed contains erroneous information from the City's Landmark Application.)

Berkeley Historical Plaque Project
2013