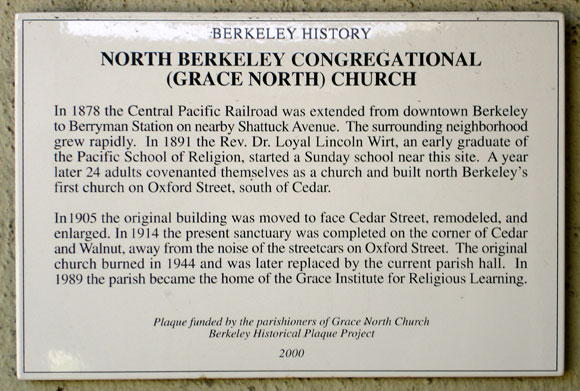 North Berkeley Congregational Church, history
BERKELEY HISTORY
NORTH BERKELEY CONGREGATIONAL
(GRACE NORTH) CHURCH
In 1878 the Central Pacific Railroad was extended from downtown Berkeley to Berryman Station on nearby Shattuck Avenue. The surrounding neighborhood grew rapidly. In 1891 the Rev. Dr. Loyal Lincoln Wirt, an early graduate of the Pacific School of Religion, started a Sunday school near this site. A year later 24 adults covenanted themselves as a church and built north Berkeley's first church on Oxford Street, south of Cedar.
In 1905 the original building was moved to face Cedar Street, remodeled, and enlarged. In 1914 the present sanctuary was completed on the corner of Cedar and Walnut, away from the noise of the streetcars on Oxford Street. The original church building burned in 1944 and was later replaced by the current parish hall.
In 1989, the parish became the home of the Grace Institute for Religious Learning.
Berkeley Historical Plaque Project
2000