Bookstores of Telegraph Avenue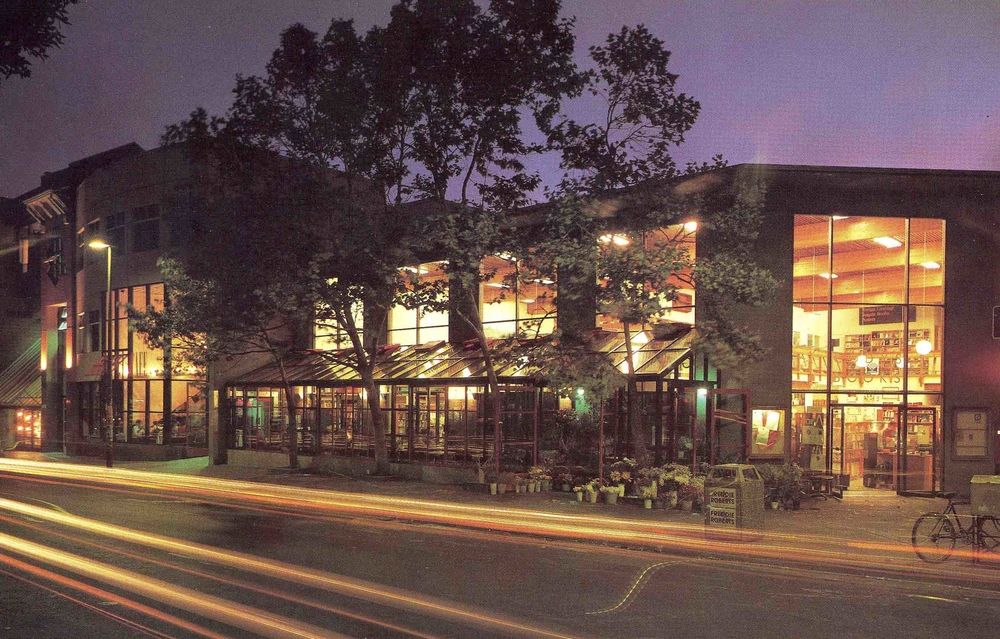 BERKELEY e-PLAQUE
Bookstores of Telegraph Avenue


Sather Gate Books, Cody's, Daliel's Books:
2307 Telegraph Avenue (Sather Gate books) 2454 Telegraph (Cody's) 2466 Telegraph Avenue (Daliel's Books)
Creed's Books, Joyce Bookstore, Il Picollo:
2472 Telegraph Avenue (Creed's Books) 2475 Telegraph Avenue (Joyce Bookstore, Il Picollo)
Moe's, Rambam:
2476 Telegraph Avenue (Moe's) 2499 Telegraph Avenue (Rambam)
The blocks of Telegraph Avenue immediately south of campus have been home to a diverse body of new and used bookstores to an extent that is unexpected even in a university town.
Before the 1960s, three stores stood out. The grand dame was Sather Gate Books, which was located at different spots on the 2300 block from at least as early as 1923. Quail Hawkins was the dominant presence at Sather Gate Books for three decades, and her recollections of the store are preserved in a lengthy oral history. The store closed in 1972.
Creed's Books was the second old anchor. It started at 2252 Telegraph, on the now-gone block north of Bancroft, and then migrated to 2470 Telegraph when its original home was demolished. Creed's sold books and records, and there exists a comedic operetta about the store, the book and lyrics by Art History Professor James Cahill and music by Gordon Cyr.
Last of the important early stores was daliel's on the west side of the 2400 block just south of Haste, with a Googie façade designed by John Grace. George Leite ran daliel's from 1945 until 1952 as a combination bookstore, art gallery, and offices for the literary magazine Circle. Anais Nin and Henry Miller were friends of Leite and occasionally appeared at daliel's.
Serving as a bridge into the 1960s was Everett Cunningham's Joyce Bookstore at 2475 Telegraph, the site today of the Café Med. What the store lacked in organization was offset by Cunningham's Dadaist presence and the opening in 1956 of the Il Piccolo espresso shop by Maxine Chiterin.
In the 1960s came Moe Moskowitz and Fred and Pat Cody. Moe moved his paperback shop from 1984 Shattuck Avenue to 2499 Telegraph, the corner shop at Dwight Way, which he operated with Bill Cartwright as Rambam, and then across the street to more or less its current location, leaving the corner at Dwight for Cartwright to operate as Shakespeare & Co., and employing poet Jack Spicer as a clerk in the mid-1960s. Cody's started at 1838 Euclid Avenue in 1956, and, as student housing shifted south, so did Cody's, operating first in 1960 at 2476 Telegraph and then in 1965 to 2454 on the corner of Haste Street. Cody's dealt only in new books and was at the forefront of the paperback revolution. The two stores and the two men defined the bookstore world on Telegraph in the troubled times of the 1960s and early 1970s. They were each unsuccessfully prosecuted for obscenity and were strong-willed bookmen who didn't care for each other.
Other bookstores on or near Telegraph in the glory days were Cartesian Books at 2445 Dwight, the Socialist Workers Party's Gramma at 2509 Telegraph, Lucas Books at 2130 Bancroft, Shambhala ("All Hail to the One Cosmic Mind") at 2482 Telegraph with books on wisdom traditions of the world, the Maoist Yenan and unnamed women's bookstore in the alley behind the Forum at 2506A Haste, the Christian-themed Logos on the northwest corner of Telegraph and Channing Way, the California Book Company on Telegraph and Bancroft, and the Campus Textbook Exchange (where Kathy Soliah was recruited into the SLA). University Press Books has been at 2430 Bancroft since the 1980s, selling university press and other scholarly books. There were others, short-lived and/or forgotten, and there was the brief appearance of corporate bookstorism in Waldenbooks on Telegraph, which in February, 1989 was firebombed along with Cody's during the Satanic Verses controversy.
These bookstores were an important part of what made Telegraph what it was in its prime.
Contributed by Tom Dalzell, 2016