John Hudson Thomas, Architect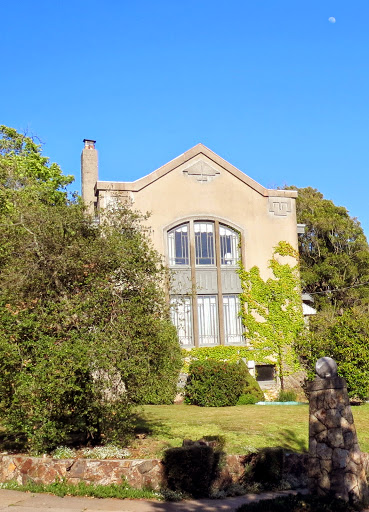 BERKELEY e-PLAQUE
John Hudson Thomas, Architect
(1878–1945)
Pratt-Thomas House (1911):
800 Shattuck Ave.
Adjacent Residences (1911):
959, 961 Indian Rock
In the early part of the last century, John Hudson Thomas created a series of monumental houses remarkable for their grandeur, architectural verve, and robust imagination. While reminiscent of other grand edifices, such creations as the Spring Mansion and Hume Cloister exemplify an architect whose unique and richly fantastical vision can be seen in signature elements ranging from gables and walls of unexpected thickness to Vienna Secessionist ornamentation. Thomas, who pioneered the use of reinforced concrete, also emphasized interior architecture through his use of inglenooks, gothic windows, stepped chimneys, and tapestry-covered walls.
Born in Nevada, Thomas graduated from Yale in 1902 and completed a graduate program in architecture at the University of California, Berkeley in 1904. He then joined the office of John Galen Howard, where he worked until leaving to form a partnership in 1907 with another of Howard's architects, George Plowman. The pair built many Craftsman style houses to accommodate the burgeoning population in the East Bay— especially Berkeley with its new trolley lines—following the 1906 Earthquake. After the partnership was dissolved in 1910, the work of Thomas was marked by an eclecticism of styles that ranged from Neoclassical to Prairie School, Mission, Gothic, and Dutch Colonial.
Thomas sought both to incorporate current technological developments, with modern kitchens and other conveniences, and to recreate the appearance of such traditional forms as half-timbering and thatched roofs. The versions of the English Cottage that he produced late in his career (1941–1947 Yosemite Avenue) were the culmination of this blending of old and new.
Among his many prominent Berkeley structures are the Wintermute house (227 Tunnel Road) and landmark houses at 1317 Shattuck Avenue (Captain Maury House), 2900 Buena Vista Way (Hume Cloister), 1730 Spruce Street (Loring House), and 1960 San Antonio Road (Spring Mansion).
Contributed by Carl Wikander, 2014
More information:
Toward a Simpler Way of Life, Robert Winter, ed., 1997, 83–92.