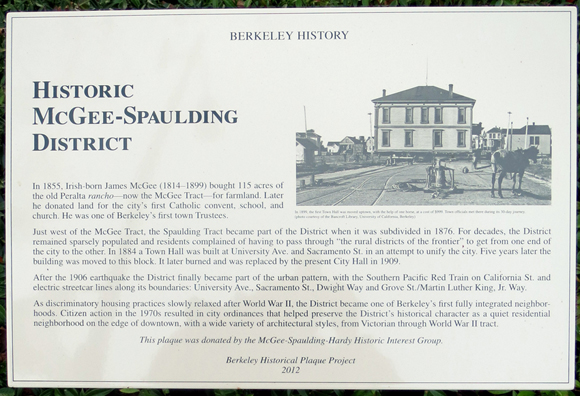 McGee-Spaulding Historic District 2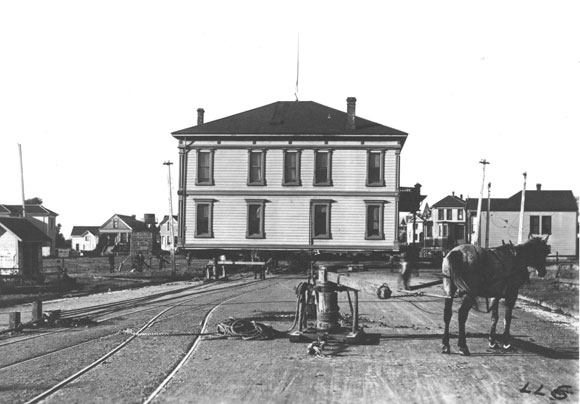 BERKELEY HISTORY
HISTORIC McGEE-SPAULDING DISTRICT
In 1855, Irish-born James McGee (1814–1899) bought 115 acres of the old Peralta rancho—now the McGee Tract—for farmland. Later he donated land for the city's first Catholic convent, school, and church. He was one of Berkeley's first town Trustees.
Just west of the McGee Tract, the Spaulding Tract became part of the District when it was subdivided in 1876. For decades, the District remained sparsely populated and residents complained of having to pass through "the rural districts of the frontier" to get from one end of the city to the other. In 1884 a Town Hall was built at University Ave. and Sacramento St. in an attempt to unify the city. Five years later the building was moved to this block. It later burned and was replaced by the present City Hall in 1909.
After the 1906 earthquake the District finally became part of the urban pattern, with the Southern Pacific Red Train on California St. and electric streetcar lines along its boundaries: University Ave., Sacramento St., Dwight Way and Grove St./Martin Luther King, Jr. Way.
As discriminatory housing practices slowly relaxed after World War II, the District became one of Berkeley's first fully integrated neighborhoods. Citizen action in the 1970s resulted in city ordinances that helped preserve the District's historical character as a quiet residential neighborhood on the edge of downtown, with a wide variety of architectural styles, from Victorian through World War II tract.
Berkeley Historical Plaque Project
2012