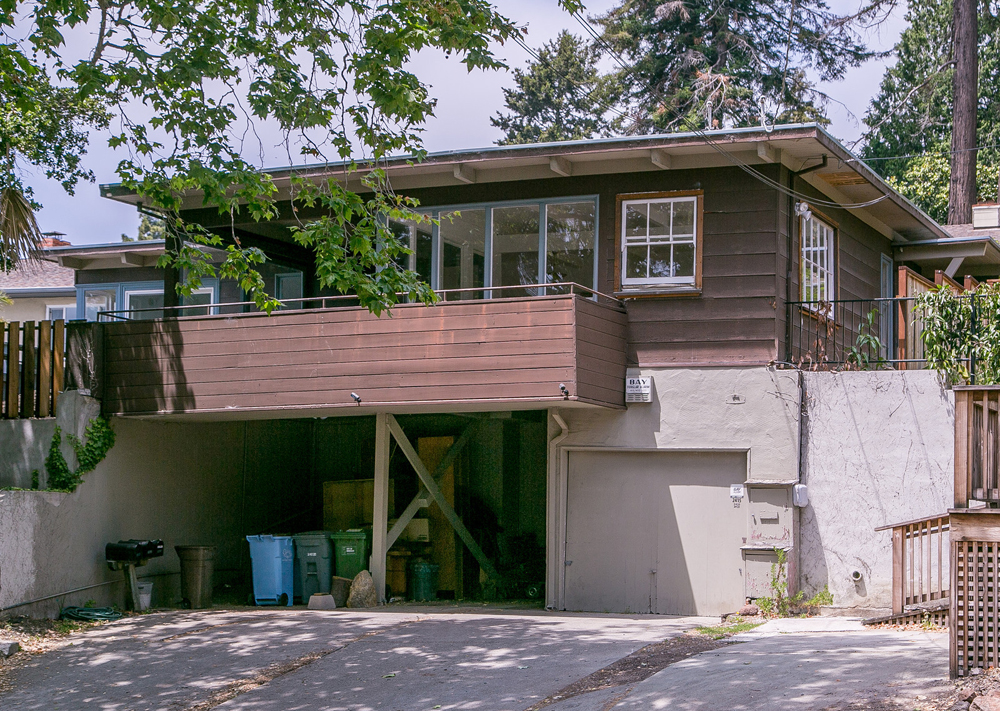 BERKELEY e-PLAQUE
Oskar Gerson, Architect
(1886–1966)
Gerson Residence (1946):
2425 Eunice Avenue
Oskar Gerson was one of the several European architects who as émigrés or exiles came to Northern California and exerted a strong influence on local modernist architecture.
The Berkeley Gazette reported on November 21, 1940, that Gerson "used to be one of the outstanding architects in Germany. He designed and erected most of the leading government buildings and some of the great wharves in Hamburg." While the article slightly embellished his achievements, Gerson and his brothers Hans (1881–1931) and Ernst (1890–1984) were major forces in the development of Hamburg's warehouse and office districts in the 1920s. Their work, largely of brick, was classified as "brick expressionism." The best-known of these buildings was the Sprinkenhof complex.
The coming of Hitler drove Gerson with his wife, children, and sister-in-law first to London and then to Berkeley. His California sponsor was fellow Hamburg exile William Strauss, who several years later became a Marin organic dairy farmer. Gerson's nephew Hans (1915–2000), also an architect, came to Berkeley in 1946 and subsequently had a long association with architects William Merchant and Harry Overstreet.
In Berkeley, Oskar turned to modernist home design. Berkeley is not without examples of midcentury modern architecture, but it is not widespread. With a few exceptions, Berkeley's modernist homes eschew the steel and glass facades associated with the style. So it was with Gerson. His designs are modest, unadorned, and minimalist. The adaptations required by his new environment were striking – hillsides rather than level ground, wood siding instead of brick, and a warm climate as opposed to cold Hamburg. He adjusted well.
The Walton House (1521 La Loma Ave.), Gerson's first California design, was designated a City of Berkeley landmark in 2002 as part of the La Loma Park Historic District. The Landmark Commission recognized it as "the first California creation of a revolutionary European searching for new architectural solutions."
Gerson and his family originally lived at 1530 Euclid Avenue. In 1946 he designed and built a two-bedroom, modernist wood-sided home at 2425 Eunice St. where he lived until his death. Four years later, he designed and built the Rosenfeld House (478 Vermont Ave.), a much commented-upon example of modernism, for a family member.
Contributed by Tom Dalzell, 2014